Water Transfers and Other Decals
You can find these decals on Ebay exactly as per mine here, BUT those decals are printed on a vinyl backing and have substance, unlike my 'originals' which have virtually zero thickness, being true water transfers. Please note that these vinyl stickers not only are not authentic but cost much more than my authentic transfers.
All of the Transfers below have been expensively re-produced in the UK and are currently for sale here.
I have had made, and will continue to offer for sale, these amazing Water Transfers which are exactly the same as the original transfers.​
Please be assured that, despite the work involved to get these transfers to you, I make very little if no profit. ​  Therefore you must accept that with the visits to the local Post Office to get quotes and then to post, my time and expenses are worth a little compensation. [Usually $4]
NOTE:  When paying by Paypal please send money as to a 'friend' and not as to pay for Goods received. In other words I do not want to be stiffed with a Transaction fee because I make little on these sales as it is.
Because of many past problems identifying the exact transfer that is desired to be bought, I have now noted them so as to cause no future confusion. [Transfer A,B,C,D,E etc]
The prices quoted here do not include any shipping charges.
All of these real transfers are not available anywhere else in the World. You may find many 'vinyl' sticky decals available online, but these are not authentic water transfer MARPLES stickers, such as you will find here..
To purchase any of my transfers please contact me through the 'Contact' page at the top of the screen:  edgeman@rogers.com

Here above is a complete sheet of 4 of the 'first' transfer which merely states: MARPLES SHEFFIELD ENG and is 18mm in diameter.  I sell this transfer in a minimum quantity of 4 for $16 CAN. [$4 per transfer]   TRANSFER #A
[Actually there was one transfer before this one, in the 1890s ? that just indicated MARPLES and SHEFFIELD and was slightly smaller than this one!! I have yet to find a good example to copy, but with minimum quantities being required, it may not be a worthwile endeavour to reproduce them here in the quantities that may be required worldwide.] The Transfer A is an earlier transfer than the 'second' type [ B] and is seen mainly on most hand planes, boxwood chisels etc.
The colours are authentic including the Gold.
These are correct WATER transfers as per original. [Not Vinyl knock-offs!]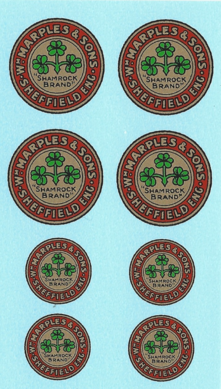 Here [above] is a complete sheet of the 'second' transfer [B,C] marked Wm MARPLES & SONS SHEFFIELD ENG which came as 19mm and 26mm diameter. I sell these transfers in sets of 4 individual transfers [either 2 small + 2 Large, or 4 small, or 4 Large] for $16CAN. [$4 per transfer]  The colours are authentic including the Gold.  These are correct WATER transfers as per original. [Not Vinyl knock-offs!]  The 19mm Transfer is TRANSFER B and the 26mm Transfer is Transfer C
I have had this large transfer [above] reproduced.  [It was placed on the side of all hand-made (not BB) wooden planes made by MARPLES and also some other tools [e.g. Hammers]. It is Large and therefore I am selling them for $6 CAN each with a minimum purchase of 2 transfers [=$12CAN]. TRANSFER #D
These are correct WATER transfers as per original.[ [Not Vinyl knock-offs!]
The Wood Plane 'BB' applications [above] are laser printed on paper.
However, these images need very precise cutting out of the outline from the original 'print'. This is very labour intensive, but I have purchased the equipment to do these functions.
I will sell each 'application', [ready to Glue to the plane] for $8 CAN each. They were always made of paper unlike the modern Vinyl Knock offs.
TRANFER is :   TRANSFER E
There is an earlier 'BB' Plane paper transfer that I have found and which I will endeavour to reproduce for you , but finding a perfect original seems to elude me. Watch this space!
Updated to 9 January 2023