The first catalogue entries that are geared to 'Upholsterers' tools can be first found in the 1873 Catalogue, wherein are listed these pages:

Then in the 1888 Catalogue we have these pages listed:
Followed by the issue of 1897:
After that followed the 1909 Catalogue files:
The next pages are from the 1928 Catalogue:
The 1938 Catalogue images follow:
1959 Catalogue:
The 1965 images are below:
The following is a brief description of the Upholstery tools that were manufactured by MARPLES over time, but you will please note that I have restricted this list to only the major tools, having not described needles, skewers and regulators etc.:
HAMMERS:
Upholsterers' Common Hammer:  Started in the 1873 Cat as #969, #1100A in the 1888 Cat. and eventually #3900 in 1909 and until delisted after 1938. [Pre-War]
Upholsterers' London Pattern Hammer:  Started in the 1873 Cat. as #970, #1101 in the 1888 Cat. and eventually #3901 in 1909 and until delisted after 1938 [Prewar]
Benwell's Upholstery Hammer:  Started life in 1873 as #971, #1102 in the 1888 Cat. and eventually #3902 in 1909. This is the most long lived of the MARPLES Upholsterers' hammers as it was eventually delisted shortly after Nov. 1969.
Coach Trimmers' Hammer: Another long lived hammer that started in 1873 as #972, #1104 in the 1888 Cat. and eventually as #3908 in 1909 and until its' demise shortly after Nov. 1963.
Cabriolet Common Uph. Hammer:  Is first seen in 1888 as #1103A and eventually #3903 in 1909, when it was de-listed shortly thereafter.
Cabriolet 'London' pattern Uph. hammer: Introduced in 1873 Cat. as #973, #1103 in the 1888 Cat. and #3904 in the 1909 Cat. and until de-listed shortly after Nov. 1963.
Scale Tanged Uph. hammer: First seen in 1909 as #3904A, changed to #3904.1/2 in 1928 and last seen in the 1938 Cat.
Double faced Uph. Hammer: This hammer can only be found #3903 in the 1938 Cat. and again was a casualty of war.  Thanks again to Mr. Hilter.
Magnetic Uph. Hammer: A great idea for a hammer and continued today by other manufacturers, but MARPLES introduced their version #3890 in 1938 and surprisingly it lasted until November 1963.
PINCERS:
Upholsterers' Pincers:   #1134 are only seen in the 1873 Cat. as they were supplanted by a better design shortly thereafter….. 'Best Uph. Pincers'.
See the pictures to note the design differences.
'Best' Upholsterers' pincers:
Again introduced in the 1873 Cat. as #1135 with widths of 7″;8″;9″ and 10″.
In 1888 the number changed to #1143, but in the same sizes available. In 1897 the number remained as #1143 but the 10″ width was not available.
The 1909 Cat. #3924 lists all four sizes again, although only the 8″ size is listed in 1921. All four sizes are again shown up to the 1938 Cat. [Pre-War] but only 7″; 8″ and 9″ were available post war in the 1959 Cat. and then again only the 8″ was shown in 1965 and until Nov. 1969.

Ripping Chisel: Introduced as #3920 in 1909 and last seen in Nov. 1963.
Web Strainers:   The 1909 Cat. introduced these tools as #3922 and they were available until Nov.1963.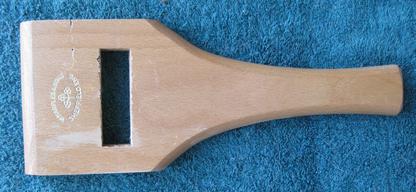 Above is an 'Upholsterers' Polished Beechwood Bat Web Strainer' Item #3922
Toothed Web Strainers:  For some reason these did not last as long as the plain type in that with #3923 of 1909 they existed as such until the 1938 Catalogue, a consequence of WW!!

This item above is described as 'Upholsterers' Polished Beechwood Toothed Web Strainer'   Item #3923  . 3 teeth at one end and 2 at the other
Upholsterers' Scissors: Introduced as #3928 in 1938 and lasted until November 1963.
Leather cutting scissors: were first seen in 1928 as #3919 changed to #3929 in 1938 and this number and product endured until Nov 1963.
Tack Claws:  Over time these tools have been moved by MARPLES in and out of the category 'Upholsterers' Tools, but I will include them here briefly, although more detail may be found under 'TACK CLAWS' in the index.
       Beech Tack Claws: #935 in 1897,#3947 in 1909 and #3541 in 1928 lasted as such until Sept. 1972.
      Rosewood Tack Claws: #935A in 1897 and #3948 in 1909, after which they do not appear anywhere.
      Beech Strong Tack Claws #3949 of Cat. 1909 became #3546 in 1928 and          no further.
     Ash handled Tack Claw #3542 was only shown in the 1938 Catalogue.
     Short shank Beech Tack Claw: #3543 introduced in 1938 and lasted until                                    November 1963
Awls:    So many Awls were made by MARPLES , the following are just those such described as 'Upholstereres":
Pritch Awls:  #3936 was first shown in 1909 and last shown in 1928.
Garnish Awls: the catalogue of 1897 first shows this as #1143E but it is     numbered #3935 in  1909 and until delisted in November 1963.
Garnish Awl Boxwood: Was available as #3935.1/2 from the 1928 Catalogue and was last listed in the November 1963 PL.
Square Awls: These square shaped awls were introduced by MARPLES in the 1909 Catalogue as Item #3937 and they lasted as such until the War [1938], but no further.
Trimmers's Awls Boxwood…:Introduced c.1928 as #3938 and continued on as far as the PL of November 1963.
Trimmers' Awl c. Egg handle box handle: Again a 1938 introduction #3939 which last in manufacture by MARPLES until November 1963 PL
Trimmers' Awl Solid all thru : Probably the best Awl produced by MARPLES as it had a solid steel shaft from point to top of handle. #3941 endured from introduction in 1938 until de-listed shortly after November 1969.