SAW SETS
The first listing that appears for  Saw Sets in MARPLES Catalogues is in 1862:
The 1873 listings shows the same tools as in 1862, but they are now numbered:
1897:
1909:  Since c.1903 you will find that the item numbers have been changed.
You may be able find most of these Saw Sets today, except that I have yet to see Item numbers 2475[with Gauge]; 2506 & 08 Saw setting hammer & Anvil; 2500 Punch Saw Set and 2502 Punch Saw Set.  It is possible that the last two listed here suffered a hard life and did not survive for us to view any good examples.
1921:
1928:
1938:
1959:
1965:
In May 1966 Hand Saw Set #2470 was listed as being available at 8/- each, but the Price List of November 1969 shows this item as having been 'Withdrawn'.  I therefore suggest that this tool was available until c.1968.
Below are some photos of Saw Sets:
Item #743 is seen in the 1888 Catalogue as 'Black American Pattern Punch Saw Set' and may have been made since c.1880.  In 1909 the number becomes #2501 'Best Black Punch Saw Set'. The last entry I can find is in the 1928 Catalogue so it may have been dropped around 1930:
Below is Item#2478 'Bright Solid Steel Hand Saw Set (15-20 W.G.) which seems to have been only available from c.1925 to c.1940
Below is [Top] Item#2494 Strong Circular Saw Set with 8 'Gates' (8-15 W.G.).   First found c.1897 as item#746 this changed c.1903 to #2494 supplied with a Rosewood Handle. In 1928 the handle was changed to 'Hardwood' and this persisted to c.1963 when it was discontinued.
Below [Bottom] is Item #2484 Single Handed Pit saw Set available with 4,5 or 6 'Gates'. [6 Gate shown]
This item number was available back to c.1903 but before that it was numbered  #744.
In 1873 the number is #542 [5 Gate] or #543 [6 Gate], and in 1862 both 5 and 6 Gates are listed, but with no item number.
Above is Item#2486 '6 Gate Strong Black Pit Saw Set'  c.1910
Below are some photos of Item#2497 'Bright Plier Saw Set'.  Under this number it was available c.1903-c1930. In 1897 it is listed as #739 and I can find no listings before this date.
Below are 2 of the more commonly available Saw Sets available today:
The Top one is described as having a 'Turnscrew End' and is listed in 1862.  A number 539 was assigned to this tool in 1873. In 1897 the Beechwood handled set was #735 and Boxwood Set was #736, but both of these tools did not have an accompanying Brass Gauge.   Around c.1903 the numbers changed so in the 1909 Catalogue we see #2471 with a Beech handle and #2473 with a Boxwood handle.  This stayed in effect until c.1938 when only a Beech handle was offered for Item #2471.  As we jump to the 1959 Catalogue we find that #2471 is offered with a Beech handle and #2471A is the same, but with an included  Brass Gauge.
This Saw Set was discontinued c.1963.
The Bottom example is listed as a 'Hand Saw Set with Plain end' [14-20 W.G.]. In 1862 it is shown with no number but is described as "Patent Saw Set with Brass Guard".  In 1873 it is given the number 541 and although the wood type is not stated, it would probably be Boxwood.  In the 1897 Catalogue #738 is of Boxwood  with #738A being in Beech.  The numbers changed around 1903, so in 1909 we see #2477 in Boxwood and #2476 in Beech.  In the 1921 Catalogue we only see #2477 with a Boxwood Handle listed and still with a Brass gauge.   In 1928 Beech handled saw sets reappear as #2476 with the option to still purchase a Boxwood variety #2477. But by 1938 the Boxwood option is not offered, only the Beech #2476. [still with Brass gauge]
From Price Lists it would appear that this Saw Set [#2476] was not offered for sale post War and I therefore assume it was delisted c.1940.
Below are 2 different examples of Morell's Patent Saw Set. This style appears first in the 1897 Catalogue as Item #749.  Around 1903 this number was changed to #2498 and under this number it survived until 1959.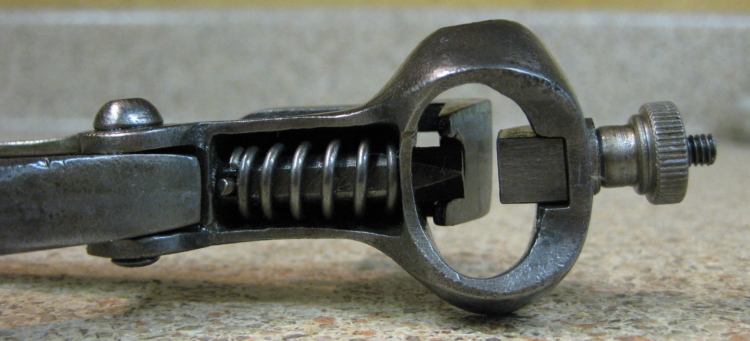 It appears to have been offered for sale by MARPLES until the Price List of April 1962 when it is shown as 17/- each.  By the March 1964 PL it has been delisted.  Therefore we can assume that this Saw Set was not available after c.1963.