A page under construction   March 2023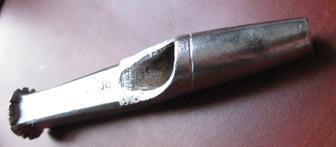 Here is a Leather workers tool [above] that was given to me by Robert Isdale from Brisbane, Australia.
It is a Shoe or Saddlers' Oval Cutting Punch that I see in the 1862 Catalogue with no number but sized 0-20
In the 1873 Cat. it is item #1154 and numbered 1-16. [these were round punches]
In the 1897 Cat. it is item #1167 and numbered 1-16 [Round] and item#1167A numbered 17-30 [Oval]
In the 1909 Cat. it is item #3780 and numbered 0-16 + larger [All Round] and item #3782 numbered 17-31 [Oval]. Both shape punches were available up to c.1959
I deduce that the Oval Punch was introduced around 1880 as the punch shown here has the number 30, HIBERNIA and single Shamrock.
Number 30 is listed as being 9/16″ measured on the larger width of an oval.
Above is a Solid Steel Saddlers' Punch and I have found it as listed:
#3781 in Cat 1909 1/8″-3/4″.
#3780B in Cat 1928 3/64″-3/4″.
#3780B in Cat 1938 3/64″- 3/4″.
#3780B in Cat 1959 3/64″-1″
#3780B in Cat 1965 1/16″- 1/2″