This is another page undergoing construction  March 2023Below  is a
'Plumber's Strong Lead Cutting knife' c.1910 Item #6556. Beechwood scale handles.
This article has had a tough life as the blade appears shorter than illustrated, as shown below.
[Alternatively, it may be a Linoleum Knife [#3921], but these always had a LONGER blade, the handle did not turn up at the heel and was 3-pinned towards the blade end only. In other words, was not as robust.]
The above is the 1909 Catalogue entry for #3921 and below that is the 1928 Listing….note the different design.
Leather Washer Cutter #6561.1/2  is first seen in the 1928 MARPLES Catalogue, [as shown below] and remained in production until the 1959 Catalogue and maybe beyond.  It is not listed in 1965.
PLUMBERS' SHAVE HOOKS:
The research I did on these tools surprised me as I had always thought that they we 'Paint Scrapers' for mouldings. That is what my Dad used them for anyway!  But apparently they can only be found in the MARPLES Catalogues under 'Plumbers' Tools.  I have yet to discover how or where they were used in this trade and I am willing to be educated!   Here are the 2 examples that I have bought: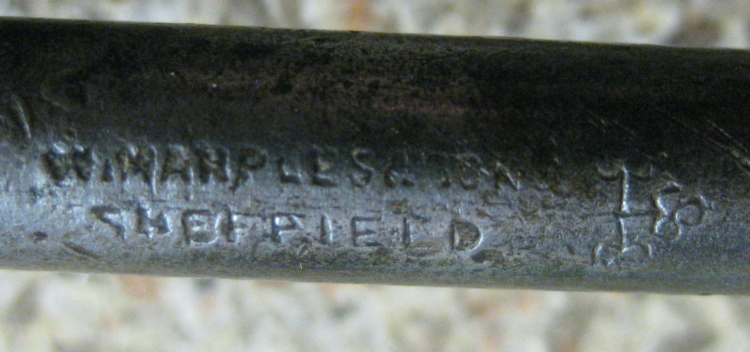 My earliest reliable catalogue  of 1897 lists these 2 Shaves as #1900..Heart Shaped with Beech handles and #1902 as being a Triangular Shave.  There was also a #1901 which was listed as a Heart Shaped shave with a Bent Shank:.
By 1903 the numbers had changed and #6520 was Heart Shaped, #6521 was the Triangular shape  and a new shave #6525 was an Improved Shave Hook having 6 interchangeable blades of different sorts:
1909 saw further changes in that #6525 was now available with either 4 or 6 blades:
1921 Catalogue only shows [post war] Items #6520 and 6521.
But the 1928 Catalogue lists a few more shapes: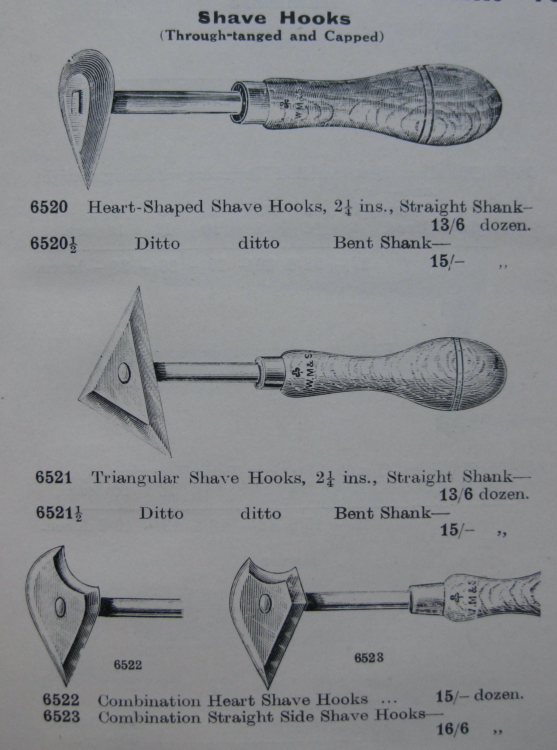 In the 1938 Catalogue the only difference is that the Item #6522 Combination Heart Shave Hook has been discontinued.
The next hard backed catalogue of 1959 shows an expected diminution of available shaves:
The 1965 is again reduced in availability, but these tools are listed under 'Decorators Tools'.
It would therefore appear that my Dad was right, they were then re-purposed and used as Paint Stripping Tools!
And in 1971 only this is shown:
WASHER/WAD PUNCHES
These leather washer punches are first to appear in the 1909 Catlogue listed as '#6558 Single Washer Punches' and listed as such under 'Plumbers' Tools.  They were to be had in sizes 3/4″ to 3″ diameter.  Although made from 'SOLID STEEL' they were never sold/advertised as such.   The 1909 listings are shown below:
In the 1921 Catalogue they are listed as above with 3/4″ -3″ as 'Single Wad Punches'  being available.
In the 1928 Catalogue they are shown as  now being available as  5/8″-3″ diameter sizes. Still #6558.
They are listed under Plumbers' Tools as Washer Punches.
1938 sees little change, just the price:
By 1959 'Single Washer or Wad Punches #6558 have been reduced in size availability.  Now only  1/4″ – 1″.
The last listing that I can find is in the price list of November 1969 when they are still shown as being available 1/4″-1″.
But by 1971 they are not shown as being available.
The following example must be [at 3/8″ diameter] an example from at least 1959 onwards.