MORTICE CHISELS:
​I really should address this important section to deal with the chisels that shaped our country, and many more, namely the much abused Mortise Chisel. This style of chisel is rarely used today, outside teaching schools, having been supplanted by Drill press style Morticing Machines or other wood joints that rely on modern adhesives.
So I will expand this section based upon history.
Even in 1861 the following MortiCe Chisels were listed in the MARPLES catalogue:
Common Mortice Chisels.  1/8″ – 1″
Best Joiners' and Cabinet Mortice Chisels.  1/8″ – 1″
Cast Steel ditto ditto   1/8″ – 1″
Improved Sash Mortice Chisels, all steel.  3/8″ – 5/8″
Socket ditto ditto ditto    1/4″ – 1″
Cast Steel Socket ditto ditto   1/8″ – 1″
Lock ditto ditto   1/2″ – 5/8″
Improved Lock ditto Tang or Socket.   1/2″ – 5/8″
By 1897 the following entries are made in that catalogue, and the name has been changed to MortiSe: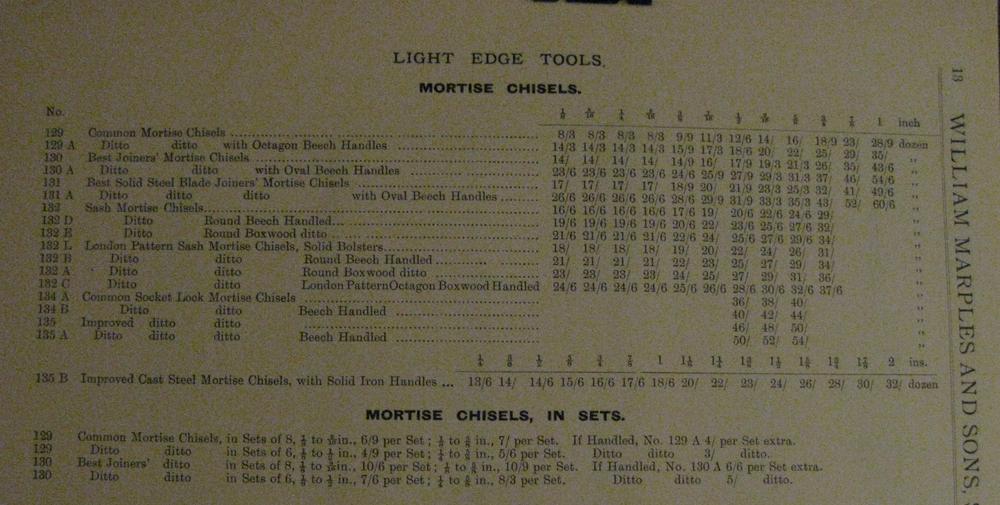 Below you will find a table that shows the Mortise chisels that were produced from 1909 onwards arranged according to item number. You will see that sometime between 1909 and by the 1928 Catalogue many styles were discontinued, leaving a bare minimum to soldier on.  The backbones of these survivors were certainly #601, #706, #736, #737
Immediately below is the 1909 page showing the handled blades.
Note the differences in the necks of #730 Sash Mortise Chisel [#731/#732 handled] and the London-Pattern Sash Mortise Chisel [#736/#737 handled]. The older style of Sash Mortice Chisel was phased out after 1909 and before 1921 in favour of the London Pattern Sash Mortice Chisel.
Below is the real survivor, the Iron Hooped Registered Round Neck Mortise Chisel #601 here with a c.1980s example.
Below you will see a great example of the #706 'Best Mortise Chisel,Oval Beech Handled'.
Throughout this treatise please note the variation in spelling: 'Mortise' and 'Mortice'. Which do you think is 'correct'?
Above is a fine example of a #737 London Pattern Sash Mortise Chisel.
Above is a set of recent #773 Splitproof Sash Mortice Chisels, spelt with a C again!!  Note here that the handles are rotated 90 degrees for ease of Morticing[Mortising?], differentiating these from Regular Firmer Chisels, where the names on the handle are in line with the top/bottom chisel surfaces. Just a small point that is missed by many. Available 1986-1998.
The one below is going to need some investigation, because it is a wooden handled Sash Mortice Chisel with a steel ring supporting the striking end of the handle, BUT it is numbered M773! As far as I can tell this chisel may have been introduced around 1982 and was switched to a Splitproof handle in 1986, as shown above.
Below is an example of C.S. Registered Chisel, Handled, as listed in the 1897 Catalogue #115 and the 1909 Catalogue as #600. This example seems to be missing the leather washer that should be between the bolster and the steel ferrule. Discontinued before 1921.
The following photos are of Item#600 showing a complete set of those tools and with the leather washers. These seem to be the for-runners of the Registered Mortice chisel, with which we are more familiar today.
Note the very thick steel top ferrule.