William Marples & Sons produced Wooden mallets to strike a chisel or gouge  going back to at least 1861 and probably even before that time.  They therefore manufactured and/or offered for sale Wooden Carpenters/Joiners Mallets for at least 130 years.  There were many item number changes during that time and many changes of ownership that resulted in even more Item number changes and changes in tools that were offered. [see the changes in the 1990's]
We can start here with the pages drawn from the 1861 catalogue:
 Gentlemen's Mallets were obviously smaller, but I cannot deduce the real useable difference between Joiners' and Carpenters' mallets. [size maybe?]
The 1873 Catalogue sees these pages.  Note the sizes:
Here are the 1897 offerings:
You can therefore see that the size range has been increased with the addition of a 4.1/2″; 5.1/2" and 6.1/2" sizes to the Carpenters' Best Quality range.  All these Mallets had best quality British Beech heads and Ash tapered mortice handles, and this standard was held until the end of manufacture in 1991.
The 1909 catalogue shows these [with Item number changes]:
Here you can see that the range of sizes has again changed to reflect the time. A small 4″ size has been introduced and the larger 8″ size de-listed.  Could this be a reflection of the degradation in strength of men generally!!  The Round Hickory #7694 is a new addition as are the 'framed' Mallets  #7690 and #7691. For the first time we can see that the Gent's Mallet is not a through Mortice handle, but may well have been 'fox-wedged'.
1921 sees the usual reduction in offerings because of the WW1, but still in the same sizes for Item#7685:
Here we move on to 1928 with again an Item# changes:
The 1938 Catalogue pages are here:


As you can see there are a couple of good additions to the range.  The #7715L was a higher quality Carpenters' Mallet having a Lignum Vitae head instead of Beechwood, and it just must have been the best ever offered.  Also the 'BB' range #7716 enters the market, being of lower quality and with therefore comparable lower prices.
Thanks to Mr. Hitler we have to jump to 1959 to see the next catalogued entries for these tools. No doubt they were for sale in between these dates but I have no literature to show you.


The 7 inch size has been deleted from being offered as a #7715 and all the other Mallets [see 1938]  no longer exist!.
By 1965 even the 6.1/2″ size of #7715 has fallen by the wayside:

By 1971 we are now down to just 3 sizes of Item#M7715.    4″; 4.1/2″ and 5″
Nothing changed in these listings until Feb 1984 when only a 4.1/2″ is listed as MR7715. This is the 1980-1990s phase when multiple changes in ownership occurred.   The same listing is seen in May 1988 and beyond, but in October 1990 there are radical number changes:
MW 6 is the 4″ Joiners Mallet
MW 11 is the 4.1/2″
MW 12 is the 5″
MW 13 is the 6″ variety         Different folks, different strokes!!
But then in May 1991 only MR 7714 at 4″ and MR 7715 at 4.1/2″ are shown!!
If you are not totally confused by now, maybe you can explain all these silly number changes to me!
It looks as though the last listing of these Carpenters' Beechwood Mallets can be found in the November 1991 Catalogue.
Here is a small gallery showing mostly the later Mallets [Most of them were used to pound into oblivion large Mortice chisels or large Gouges and so very few early examples can be found intact today]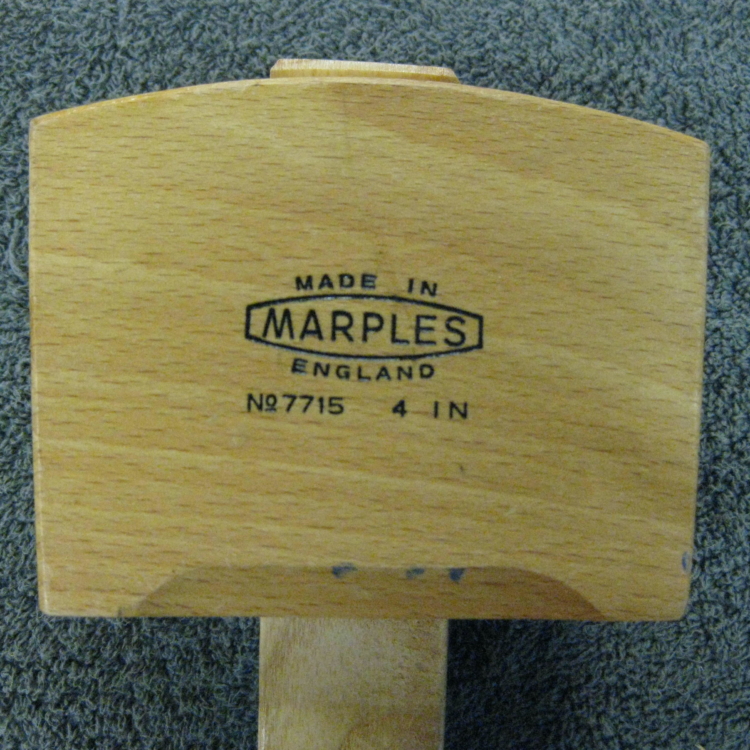 The example below numbered MR 7715 could either be from
Feb/84-Sept./90 or May/91 -Nov/91.  See above notes.