In this section I will start by listing and describing the Carving Tools' accessories and then move on to the Tools per se.
CARVER'S MALLET
The first Carver's Mallet that I can find [below] is in the 1897 Catalogue, but I must assume that it was available before then, so I shall say c.1893.  [They are not mentioned in the 1888 Catalogue].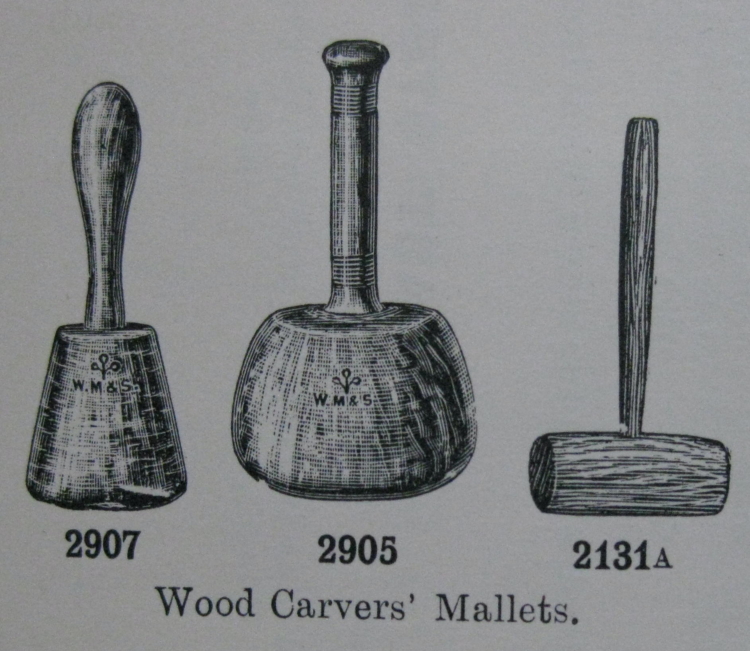 You can see that at that time there were many different styles and woods to be had.
The 1909 Catalogue shows different numbers, but #2131A Hickory has been deleted, although #2131B Hardwood has been replaced by #206 Boxwood with a slightly different shape:
1928 sees these changes: #201 Boxwood and #203 Boxwood are no longer available:
The 1938 Catalogue shows no changes from 1928.
By 1959 things have changed:
And by 1965:
Then until 1977 there were no changes but in 1977 #200 seems to have been changed to #M204 and with a different profile. That is if we are to believe the accuracy of the images!  This situation lasted until at least 1984.
In March 1986 we find that there are now 2 options, one being a #M205 Lignum Vitae head:
Both of these mallets were available up to 1992, but were not seen after 1994.
[There may have been a short time between Summer 1987 and Summer 1988 when only #M204 was available]
Below is a M205 with Lignum Vitae head:
And here is a M204 with a Beech head:
Carving or Buhl Punches:
First introduced around 1895, these decorative punches were available into the 1959 Catalogue, but no further. In 1897 they were numbered #2130 but this changed to #246 in 1909 and this number existed until the end of production. They are about 3.1/2" long with a 1/4″ square section. No.14, [Anchor], is shown below:
Bench Holdfast & Clip:
The Bench Holdfast was introduced around 1885 as #2139, but this changed in 1909 to a different tool # 279 named a 'Clip'. This was a cheaper tool that did not standup to the passage of time in that the Holdfast [now numbered # 278] was re-introduced in the 1928 Catalogue. This tool endured into the 1959 Catalogue [#4688] where 2 different sizes may be found. The last listing I can find is November 1963. It is not listed in March 1964.
Wood Carvers Vice:
This was a new addition to the Carver's tools in 1996 #RPCV130 and was very short lived as I cannot find it listed in 1998.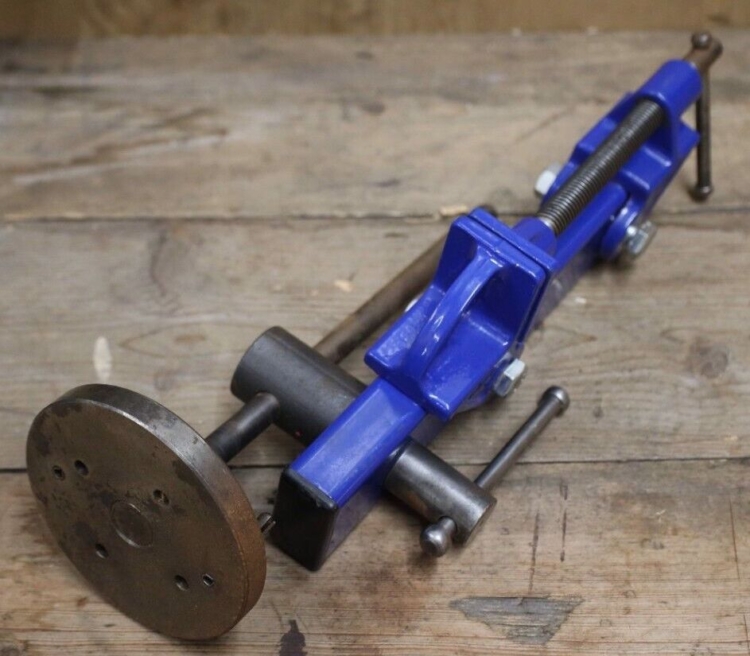 Carver's Screw:

This long standing Carver's helper was introduced in c.1895 as #1212. In 1909 it was available in a few different sizes and also as a Black finish [#277 ] and a Bright finish #276.  It was only available as #276 in 1921. But reverted to #277 up to the end of manufacture in 1994, when it was only available in 1 size.  Judging from the photo below of 2 sizes, it would appear that the length did not include the tapered nose portion
Wood Carver's Router:
Once again this tool was introduced c.1895 as a Beech router #895 and as a Boxwood router #895A. In 1909 these numbers had been changed to #260 [Beech] and #261 [Boxwood]. But the Beech router only was available from c.1921 to the end of manufacture in the Summer of 1964
Here is the only example of this tool that I have ever found, so I must assume that this tool is quite rare. This one is from c.1960 but I am not sure that the wedge is original:
CARVING TOOLS:
The first indication that MARPLES got into the manufacture of Carving Tools is when they are shown in the 1873 Catalogue. [Again you will note that the description page and the image page are both given the same number.] But noting the different scripts, the description page may be later.
These excerpts were gathered from the Hawley Museum copy.
You will note that at this time there was no #47 Veiner. Instead #11 small width was used.
The 1888 Catalogue entries are below:

Ladies Carving Tools had been introduced in Sets and individually.
Next listed here are the entries for 1897:
#47 Veiner is introduced as well as Buhl punches and Wood Carver's Screw.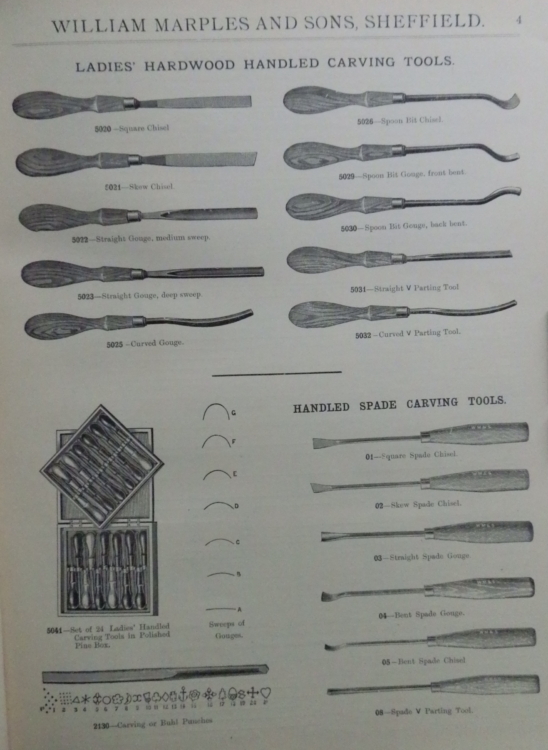 1909 Catalogue listings are below:
1921 listings:
The first page of this issue is 'Sizes and Sweeps' and is the same as in 1909
1928 Catalogue listings:
The first page of this issue is 'Sizes and Sweeps' and is the same as in 1909.
1938 Catalogue issues:
The first page of this issue is 'Sizes and Sweeps' and is the same as in 1909.
1959 is the next set of catalogue pages: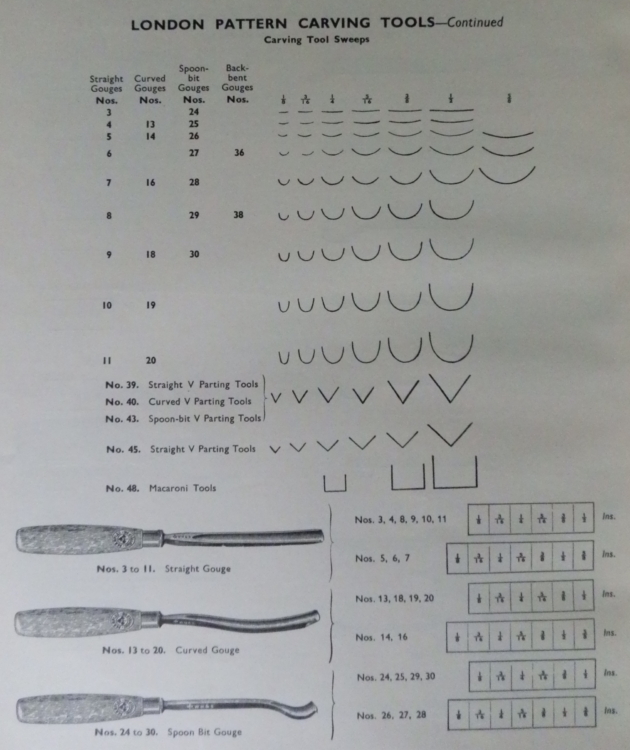 And then we come to the last of the MARPLES hard-backed Catalogues 1965:
The small paper back 1971 catalogue shows these:
1972 Catalogue:
Is the same as 1971 but quite a few styles and sizes show as being no longer supplied
3-11          3/16 & 5/16 not supplied
14,16           "     "    "      "          "
20,22,23,27,29,36       All sizes no longer supplied
39              3/16 & 5/16  not supplied
40       1/8, 3/16 & 5/16  "         "
The London Pattern Carving Tools adhered to a very old standard of sweeps and styles as shown in the 1909 Catalogue.
These tools first appear in the 1873 Catalogue in which every tool numbered 1-46 was manufactured.  In the 1888 Catalogue tools #47 & #48 are added.  In 1909 and 1921 number 47 was omitted and replaced with #11 as a substitute.  But #47 reappears in 1928 and is resident until the 1959 Catalogue.  No 49 does not appear in ANY catalogue, ever.
In the 1959 Catalogue the following tools do not appear as being available: #12;31;32;33;34;35;37;41;42;44;46 and #50
In 1965 these tools are shown as only being available in sets.
But in 1971 individual tools had been re-introduced, but each style was limited in widths avialable. It is beyond the scope of this study to list the individual widths of each style so I will merely show the Carving tool numbers then still available:  1,2,3,5-8, 11,14,16,20,27,29,36,39,40, 47.
In 1972 Numbers 20,27,29 and 36 have been dropped and #21 has been added to the line.
By November 1977 #40 is missing from the item list and the tools thus offered did not change until May 2000, when, under the ownership of the American Tool Co. RECORD, M18-3/8″ and M27- 3/4″ were added.
By January 2006 no London Pattern Carving tools were offered for sale.
[I am hoping to narrow this discontinuation down to a more accurate date.]
Dates of the Carving Tool sets being available:
#60            1971-1999
#60A         1977-1999
#60B         1984-1987
#60C         1984-1987
#150          1999-2000
#150A       1999-2000
#152           1971-1999
#152A        1996
#152B        1996
#152C        1996-1999
#153           1971-2000
#153A        1984-1999
#153B        1984-1999
#156          1996-1999
#260         1977-2000
#270         1982
During the RECORD TOOLS era c.1996 there was a set M152LE of Ash handled carving tools available that does not appear in any UK catalogue. I am suggesting that this was an Export Only item containing only 6 tools and that LE may stand for Light Export. I have only seen these sets in wooden boxes and as Bilingual.
Below are the 1988/9 sets:
Below are the 'sets' available in 1972:
These show the handle descriptions and pictures: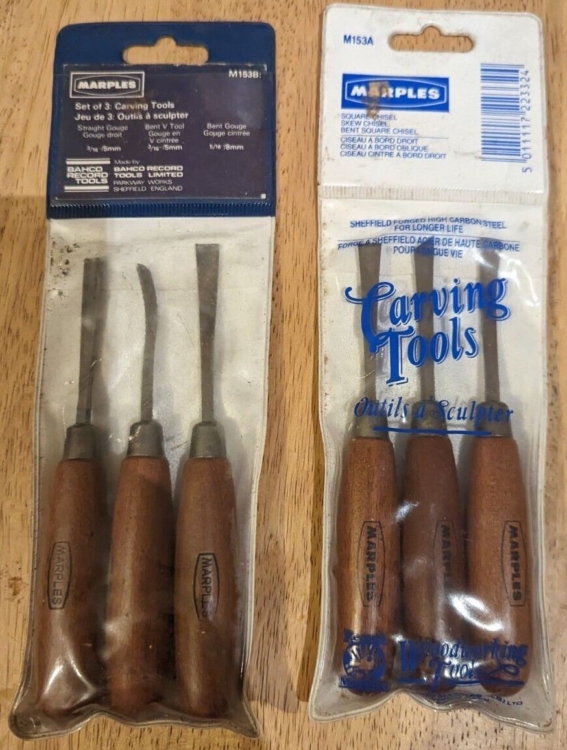 Above right are the 2 sets M153A and M153B, available 1984-1999.
Below is set M60B available 1984-87.
Below is a set of M260 Carving tools representing the last of its' kind. Made by Record Tools Ltd in Sheffield under American Tool Co. Note the wooden handles, not now polypropylene:
Below is a 12 set of M150 [available 1999-2000] Again note the hexagonal handles.
LADIES CARVING TOOLS:
First introduced [and based upon the London Pattern 'sweeps'] in 1897 and having 'Fancy Hardwood' [Ebony;Rosewood and Boxwood] or Beech handles. They were described as having a 'straw colour' which was a treatment applied to the blades to render them more resistant to rust and gave them a straw colour.
The 1897 Item #s were: 5020-5033
The 1909 Catalogue shows a number change to L1-L46.
In 1921 only L1-L39 are listed, but in 1928 these Carving chisels were only sold in 'sets' of either 6,12,18 or 24 tools.
This continued through the 1938 Catalogue but they are not shown as being available in 1959. I suspect they they were dropped from the line c.1939, another casualty of Mr. Hilter.
Unshouldered Spade Carving Tools:
I am unsure as to why these tools were ever introduced, except that they may have been less expensive thatn the London Pattern Carving tools. This because they had no 'shoulders' to but up against the handle at the ferrule.
But again they were introduced in the 1897 Catalogue [maybe before] having the item #s: 01;02;03;03.1/2;04;04.1/2;05;06;07;08
But again all these numbers changed in 1909 to:
S1-S11; S21-S32; S39; S43; and S52.
This continued the same through the 1921 Catalogue until in 1928 it is shown that they were only sold in 'sets' of 6,12,18 or 24 tools.
The 1938 Catalogue shows the same listings, but the 1959 Catalogue would indicate that these tools were no longer available, and probably since c.1940.

Below is a 3/8″ skew Spade Carving tool S2, measuring 4″ from edge to ferrule:
Chip Carving Tools:
These are first shown in the MARPLES catalogue of 1897 as being 'Wood Carving Knives' and other pages refer to them as being 'Chip Carving Knives' .
They initially were only made in 4 styles numbered 906;907;908 and 909.
In the 1909 re-numbering system these became #182;183;185; and 187.
The 1909 listings show these numbers: 179-185;186A;187 & 188
By 1921 the following numbers had been dropped: 181;186A and 188. But #186 had been added.
By 1928 only these numbers were available: 182-187.
1938 saw the introduction of numbers 179 and 180.
Only in 1959 were all these numbers still featured except #187.
The Price List of November 1963 shows all are still listed except that #185 and 186 had been withdrawn.  [Leaving #179;180;182;183 & 184 still in production]
By March 1964 all had been withdrawn from sale.
Below is a rare early Chip Carving Tool #183:
And here are a few of the later Chip Carving tools c.1990: