A page that is still under construction.  March 2023
BENCH HOOKS
These wooden tools were designed to help saw at the bench with a Tenon Saw and also to avoid damage to the bench when chiselling etc. and were first seen in the MARPLES catalogue of 1909 as Item# 4737 sized at 6″ x 10″ x 5/8″ thick. It can be seen that the cross pieces traverse the whole width of the base piece and therefore these Hooks were not, at this time, destined for use in sawing.
 A  listing in the index of the 1921 Catalogue shows up, but that is all there was, no page number given or further description.  I surmise that, as with many other tools , these were de-listed around 1915 due to the upheaval of WWI. 
The Hook in the 1928 Cat. [above] is now Numbered 7737.
The listing in 1938 is essentially as above except priced at 1/9 each and showing another Item number change to 4697.
In 1959 the same picture is shown [below], but I well remember my woodwork classes in 1957 and having a Bench Hook with shortened cross pieces for sawing. So the 1959 and 1965 images were probably outdated.
Even in the 1965 Cat. the modification is not yet shown! :
The 1971 Catalogue shows the Hook #4697 as being made of Hardwood, but no doubt it was Beechwood, as before.  It seems to have no dowels in the cross pieces and at this time it would appear that the Hook was only designed for Right-handed people. See below.
In the August 1973 Cat.  no Dowels are again shown. Item # M4697 below:

July 1979 still shows a size of 6″ x 10″ at a price of £4.70.
In 1983 the listing was changed to show a smaller sized Bench Hook
5″ x 8″ and re-numbered to MR4697 [MARPLES RIDGWAY].
In the latter part of 1988 the number was changed to MW5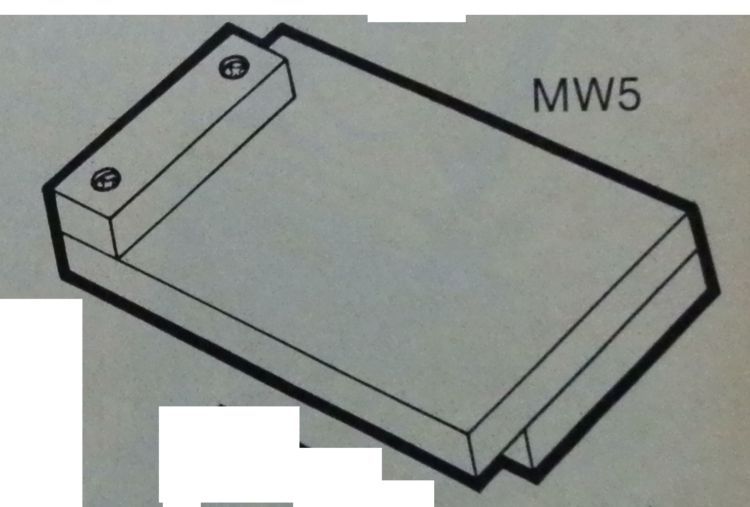 And if we are to believe this picture, the Hook can now be used by Left and Right handed sawyers.
The July 1979 information shows this very confusing statement and I find it hard to believe that the cross pieces were nailed and glued!
By May 1991 I find that the number has reverted again to MR4697 and the Hook is again made of Beech [and probably always was]. The size was probably retained at 5″ x 8″.  This was when the Company was named Wm. Marples & Sons Ltd.
The pictures below show a late MR4697 and it can be seen that the Guide Blocks were placed in the centre of each edge and that they were glued and nailed.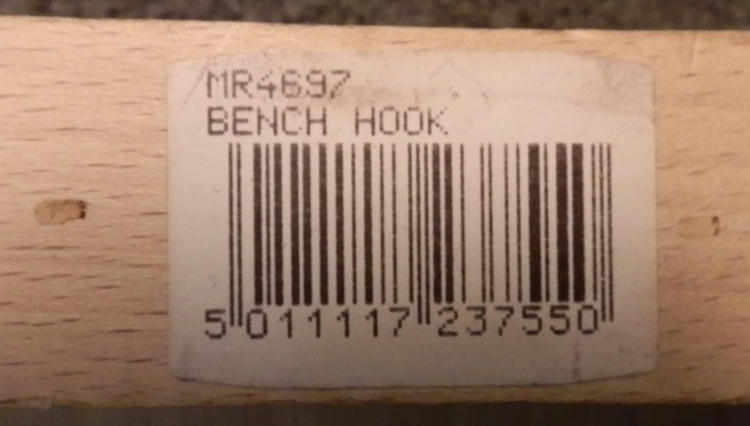 There is no mention of a Bench Hook in 1993 literature.